Moovit and Pango's new service allows you to pay for your rides directly from the app. But first, you'll have to create a Moovit Pay account. Tap "Join" on the Directions screen to start, and follow the simple steps to set up your account.
Phone number and verification by code: It will be linked to your account, and you can retrieve all your information and history with it
Name: So we can know what to call you
Email address: This is where we will send the invoices for your rides
Date of birth (optional)
ID number: A requirement by the Ministry of Transportation, also used for your Rider Profile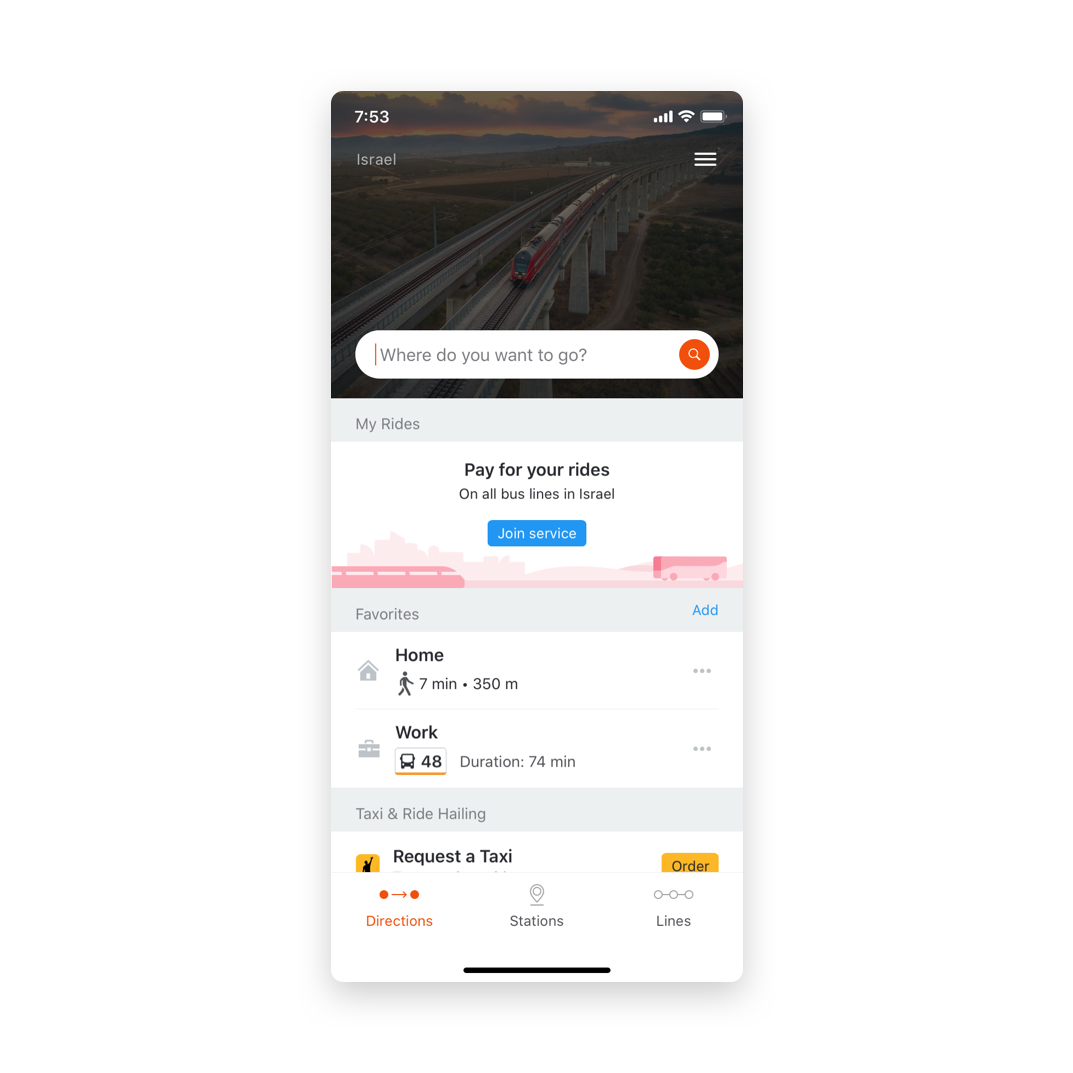 Add Credit Card Details

According to the new payment method, payments are made retroactively (postpaid) at the end of the month. This is why your credit card details are needed once you've added all your personal details - so you can get billed at the end of the month.
Pango manages all the payments for public transit on Moovit, so all charges are done by them. If you already have a Pango account, we can use the credit card you're using there (just choose that option on the screen). If you prefer to use a different credit card, you can change it, but be aware this means the card will be switched for Pango, too. You'll just need to add your CVV number, to make sure the credit card is valid.
If you don't have a Pango account, we will create one for you (you don't have to do anything), and you can choose the payment method you would like to use.
In any case - you will need a Pango account to pay for public transit in Moovit.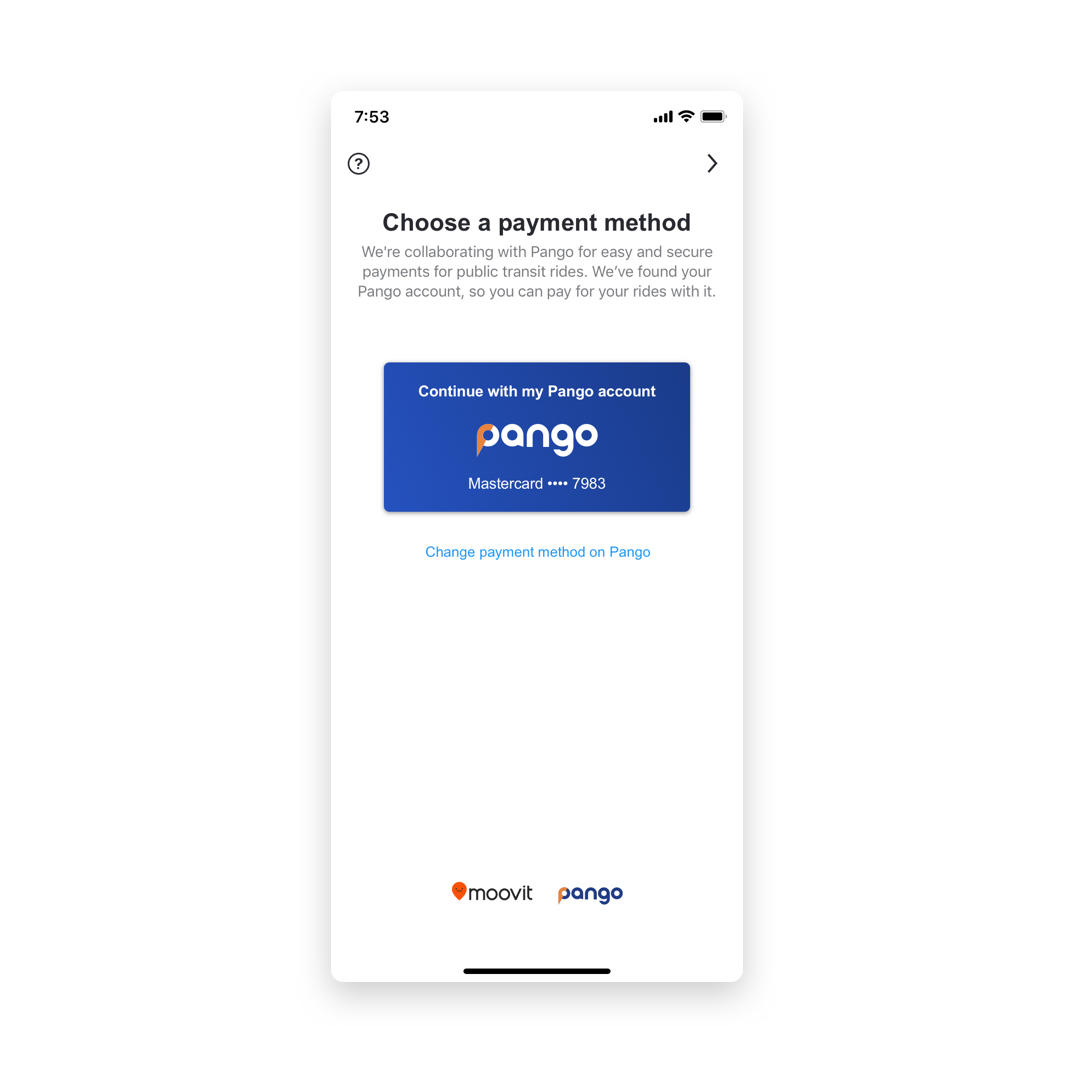 Next Step: Choosing a Profile
The profile you choose is our - and the Ministry of Transportation's - way to know if you're eligible for discounts on public transit rides. The default profile is called Adult, and with it you'll pay full price for rides (see the new pricing method) . Choosing it will create your paying account, and you can start using it to validate your rides.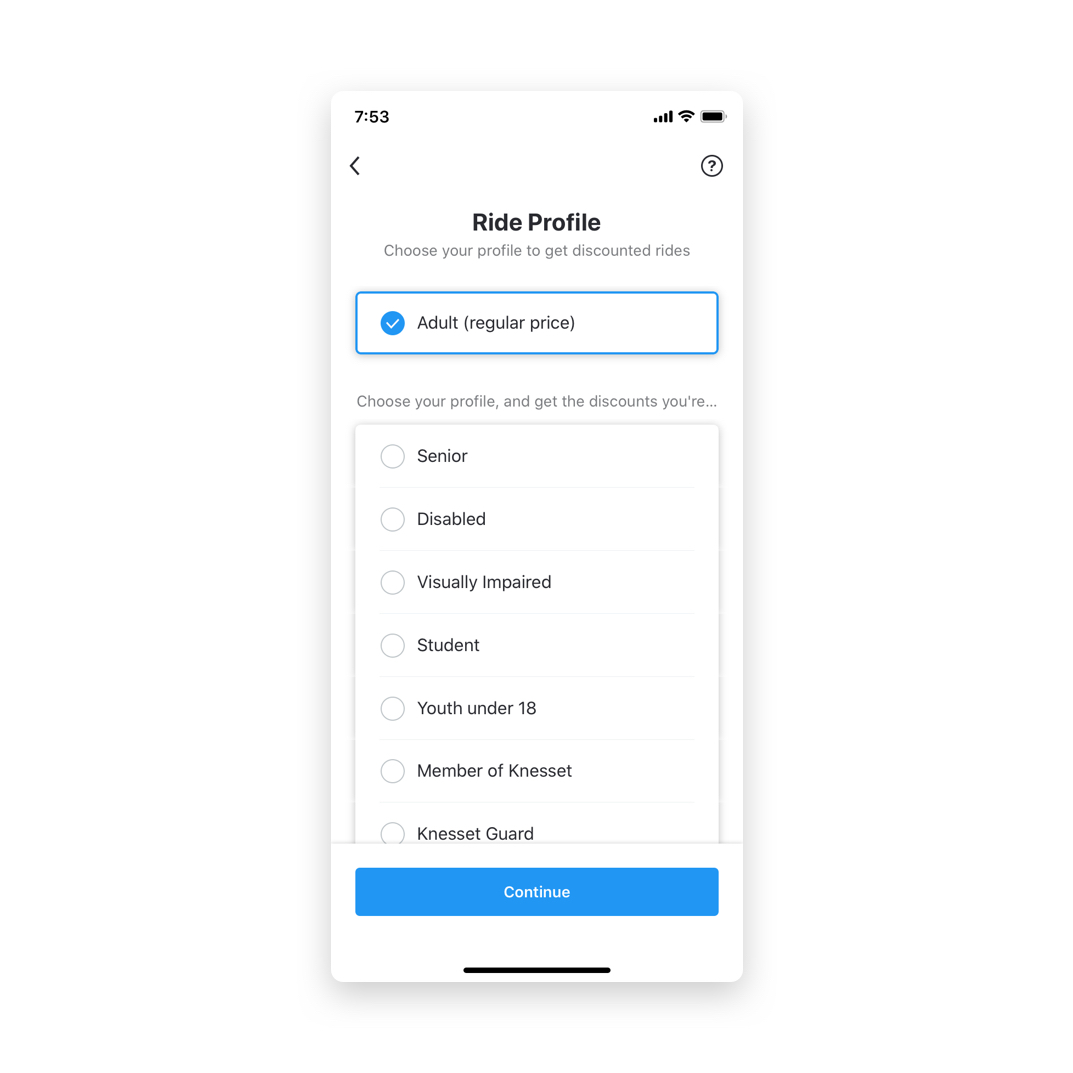 Discount Profiles
If you're entitled to a discount on public transit rides, you can choose a discount profile. For each of the profiles, you'll have to upload pictures (gif/ jpeg) of documents for verification: a photo ID (i.e. ID Card, Driver's License or Passport), and in some cases also pictures of official documents or certificates (e.g. a Student Card, a Disability Card etc). Unfortunately, it's impossible to upload PDF files.
We go over all the uploaded documents, approve (or deny) them, and add an expiration date when necessary. Until all documents are approved, the profile defaults to Adult, and so will the fares you'll see while validating. Don't worry, you are charged only at the end of the month, and the prices are updated retroactively to when you uploaded the documents.
You can check the status of your profile at any time in My Account, and see if your certificate is approved, pending approval or denied. You can also see if your documents have expired and new ones are required.
Check here for all profiles eligible for discounts on rides or free rides.