Looking for a specific line? The Lines tab will give you all the answers you may need about any line in you city.
Tap the Lines tab (bottom right of the screen) and you will see all the lines available in your city.
On the top of the screen there's a search bar, where you can type in a specific line name or number, to easily find exactly the one you're looking for.
Under that you can see all your city's lines - swipe right or left to see the lines of the transit type (buses, trains, trams, etc) you're interested in. The tab on the left - marked with a star - is for easy access to all your Favorite lines.
The lines under each tab are also arranged by transit agencies. If there are planned changes or major disruptions to any of the lines - there will be a colored icon beside them. Tap it to see the service alert stating nature of the change.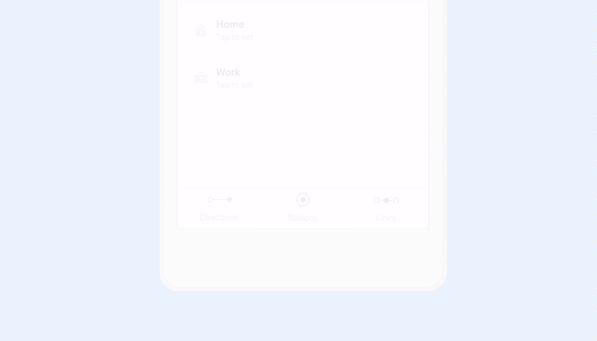 For information on stops and schedules of a specific line
Tap a line number to see a list of stops for it, and instantly see the arrival time to your closest stop*.
Tapping on each station name will show you the estimated time it should be arriving at it*.
For all the line's arrival time at each station throughout the day tap "Full Schedule"
More on this screen
Use a line often? Save it as a Favorite by tapping the star (top right). Now you can access it quickly from the star tab on the Lines screen, and updated on severe disruptions to it (service alerts).
For information on other directions of this line tap "Change direction" and choose the one you want.
Tap the map icon to see the lines route on the map. Zoom in to see station locations.